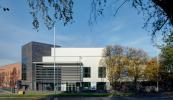 Oak Vale Medical Centre
The Fiveways Centre, 215 Childwall Road, Liverpool, L15 6UT
Current time is 03:52 - Sorry, we're closed

Telephone: 0151 295 9330
Fax: 0151 295 9331
Out of Hours: 111
Latest News (click title to open):
CCG News
Some people who are at higher risk from coronavirus (COVID-19) can apply to receive a free supply of vitamin D supplements this winter.
Find out about how local Covid-19 vaccines will happen.
Details of how GP practices in Liverpool are starting to vaccinate priority patients.
Groups of GP practices in Liverpool are starting to invite people over 80 to receive the Covid-19 vaccine.
The local NHS is reminding people of where to go if they need health advice or treatment over the Christmas holiday period.
The NHS is currently offering the COVID-19 vaccine to people most at risk from coronavirus.
People who need urgent NHS care in Liverpool are being asked to contact NHS 111 before attending an Emergency Department.
Opening Times
Monday
08:00 until 18:30

Tuesday
08:00 until 18:30

Wednesday
08:00 until 12:30
13:30 until 18:30

Thursday
08:00 until 18:30

Friday
08:00 until 18:30

Saturday
CLOSED

Sunday
CLOSED