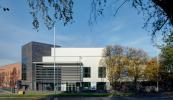 Oak Vale Medical Centre
The Fiveways Centre, 215 Childwall Road, Liverpool, L15 6UT
Current time is 20:09 - Sorry, we're closed

Telephone: 0151 295 9330
Fax: 0151 295 9331
Out of Hours: 111
Latest News (click title to open):
CCG News
The new Office for Health Improvement and Disparities (OHID) has launched the Better Health-Every Mind Matters campaign to support the nation's mental wellbeing.
Free, safe and anonymous online mental wellbeing community for adults in Liverpool.
Free, safe and anonymous online mental wellbeing community for young people in Liverpool.
The NHS in Liverpool is outlining practical advice for getting GP care in the city, as the Covid-19
pandemic continues to impact on services.
Bowel cancer screening for over 60s saves lives by finding cancer early. Even if you feel healthy you should take a test – which can be done at home, in private.
Smokefree Liverpool is still supporting residents to quit smoking, and it's never been easier.
We have been advised by the suppliers of our flu vaccines that due to unforeseen circumstances there will be a delay in the practice receiving some vaccines this year.
The first call for help takes courage. If you or someone you know is struggling with their mental health or wellbeing, expert help is available from Op COURAGE: The Veterans Mental Health and Wellbeing Service.
A supplier to the NHS has advised us of a global shortage of some blood bottles used for taking blood tests.
The local NHS is reminding people that they can still access
urgent care over the Bank Holiday weekend at any time – including on Bank Holiday Monday (30 August) when GP practices will be closed.
Opening Times
Monday
08:00 until 18:30

Tuesday
08:00 until 18:30

Wednesday
08:00 until 12:30
13:30 until 18:30

Thursday
08:00 until 18:30

Friday
08:00 until 18:30

Saturday
CLOSED

Sunday
CLOSED