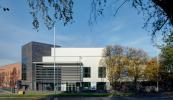 Oak Vale Medical Centre
The Fiveways Centre, 215 Childwall Road, Liverpool, L15 6UT
Current time is 05:21 - Sorry, we're closed

Telephone: 0151 295 9330
Fax: 0151 295 9331
Out of Hours: 111
Latest News (click title to open):
CCG News
Advice for parents and carers on how to look after their child at home if they have a high temperature and when to get help.
The NHS is reminding the public that everyone accessing or visiting healthcare settings must continue to wear a face covering and follow social distancing rules.
Members of the public can drop in & get vaccinated at Sefton Park between Thursday 15th and Sunday 18th July
As part of the NHS 'Grab-a-Jab' campaign, Sefton Park will be hosting Liverpool's first mass vaccination event this weekend.
The NHS is urging anyone aged 18 and over to book their first vaccination appointment without delay as the health service enters its final push to protect the country against the virus.
The local
NHS is reminding people in Liverpool to contact their GP if they need help, and that face-to-face appointments are available to all who need them.
During Diabetes Week 2021 (14 – 20 June), the local NHS is encouraging anyone who may be at risk of developing type 2 diabetes in Liverpool to access free NHS advice and support.
With the vaccine rollout in England now opened to those
aged 25 and over, young frontline health workers have joined forces to make the facts clearer for young people and urge them to both get the vaccine when their turn comes and get tested regularly, even if they have no symptoms.
The local NHS is reminding people to contact NHS 111 first if they need urgent care over the coming Bank Holiday weekend, when GP practices will be closed.
The NHS in Liverpool is stressing the importance of getting a second dose of the Covid-19 vaccine.
Opening Times
Monday
08:00 until 18:30

Tuesday
08:00 until 18:30

Wednesday
08:00 until 12:30
13:30 until 18:30

Thursday
08:00 until 18:30

Friday
08:00 until 18:30

Saturday
CLOSED

Sunday
CLOSED