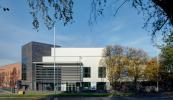 Oak Vale Medical Centre
The Fiveways Centre, 215 Childwall Road, Liverpool, L15 6UT
Current time is 05:57 - Sorry, we're closed

Telephone: 0151 295 9330
Fax: 0151 295 9331
Out of Hours: 111
Latest News (click title to open):
Welcome to Oak Vale Medical Centre
Our team is dedicated to your continued good health; we approach your care with professionalism, discretion and friendliness. We hope that you can count on a warm welcome from everyone involved here at the practice.
Our building has been built to cater for the needs of the disabled. All of our consulting rooms are located on the ground floor but if you need any help in accessing the building, please make this clear when you are booking an appointment and we shall offer you what help we can to facilitate your visit. If you have any disability with which you need help e.g hearing, vision, mobilitiy, please let us know and we can arrange for a member of staff to help you.
Our appointment system is an innovative system which has been introduced successfully in other GP surgeries around the country. We introduced it in February 2013 and the system works as follows.
Telephone the surgery before 11 am, one of our doctors will telephone you back on the same day and discuss your medical problems with you. They be able to help you over the telephone,If you need to come to see a doctor, they will give you a time to come down, usually on the same day if that is convenient for you. If there is a time during the day when you will not be able to take a call from the doctor, please let the receptionist know. Similarly, if you work and there is a limited period of time when you can take a call, please let the receptionist know.
Before a fully trained hospital doctor can work as an independent G.P., they need to complete additional time working in a G.P.Training Medical Practice, Oak Vale is one of these practices. These  doctors will have been qualified for 2 to 5 years when they join the practice.
Latest News
Information regarding Face masks in healthcare settings
Please click the following link
COVID-19 Vaccination Bookings now on national system for 36-39 year olds
NATIONAL BOOKING SERVICE (NBS):  The National Booking Service (NBS) is now accepting booking requests from people aged 36 and 37, […]
Help and support over the Festive Period
Please click the link for information: Help and support over the Festive Period
Coronavirus (COVID-19) vaccine
The NHS is currently offering the COVID-19 vaccine to people most at risk from coronavirus. The order in which people […]
Carers Week 8th-12th June
Barnardos are rolling out their Young Carers video this week, please visit their social media platforms: Instagram: @barnardos_uk Twitter @barnardos, […]
Opening Times
Monday
08:00 until 18:30

Tuesday
08:00 until 18:30

Wednesday
08:00 until 12:30
13:30 until 18:30

Thursday
08:00 until 18:30

Friday
08:00 until 18:30

Saturday
CLOSED

Sunday
CLOSED