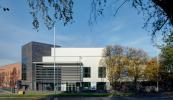 Oak Vale Medical Centre
The Fiveways Centre, 215 Childwall Road, Liverpool, L15 6UT
Current time is 19:31 - Sorry, we're closed

Telephone: 0151 295 9330
Fax: 0151 295 9331
Out of Hours: 111
Latest News (click title to open):
Named Accountable GP
Do you know that every patient has a named GP?
From April 2015, due to new contractual requirements all practices were required to allocate a named accountable GP to all patients, therefore, over the past 12 months all our patients have been assigned a named GP.
What does this mean?
It is required that the "named accountable GP" will be responsible for the co-ordination of all appropriate services necessary under the contract and make certain they are delivered to patients where required. However, this does not mean that they will be the only GP or Clinician who will provide care to that patient. These responsibilities will be carried out within the opening hours of the Practice and do not change the way you currently access care outside these hours.
Practices are required to inform their patients of their named GP at the next appropriate interaction.
Do patients have to see their named GP when they book an appointment?
Patients do not have to see their "named GP" – It is important to note that, this does not affect your care in any way and, as always, you can choose to see any GP or nurse in the practice in line with current arrangements subject to availability. If a patient's preferred choice of GP or nurse is not available, an alternative will be offered.
Can patients choose their own named accountable GP?
If you have a preference and would like to request a different named GP, please contact the practice.
If you are unsure of the name of your accountable GP and wish to find out, please contact the practice or ask at Reception.
Please be assured that you can still access all of our medical team in exactly the same way as before.
Opening Times
Monday
08:00 until 18:30

Tuesday
08:00 until 18:30

Wednesday
08:00 until 12:30
13:30 until 18:30

Thursday
08:00 until 18:30

Friday
08:00 until 18:30

Saturday
CLOSED

Sunday
CLOSED