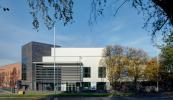 Oak Vale Medical Centre
The Fiveways Centre, 215 Childwall Road, Liverpool, L15 6UT
Current time is 17:46 - We're open

Telephone: 0151 295 9330
Fax: 0151 295 9331
Out of Hours: 111
Latest News (click title to open):
Med3 Fit Notes
If you have been off work for up to 7 days, you do not need to see your GP for a Med3 Sickness Certificate, you may use an SC2 form (self-certification form) which is available from your employer or on the HMRC website.
If you are off work for longer than 7 days, your employer may ask for a Doctors Statement. If you have been in hospital during your sickness absence, the practice will have documentation of this and you may not need an appointment with the GP to obtain a fit note.
Please call the practice for advice of this and you will be informed if you need to see the GP or not.  If you do not, the receptionist will take your details, pass your request on to the GP and you may be able to collect a sick note from reception once processed.
Statement of Fitness for Work – 'Fit Note'
The 'fit note' was introduced on 6 April 2010. With your employer's support, the note will help you return to work sooner by providing more information about the effects of your illness or injury.
For more information see the DirectGov website (where this information was sourced)
Opening Times
Monday
08:00 until 18:30

Tuesday
08:00 until 18:30

Wednesday
08:00 until 12:30
13:30 until 18:30

Thursday
08:00 until 18:30

Friday
08:00 until 18:30

Saturday
CLOSED

Sunday
CLOSED