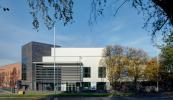 Oak Vale Medical Centre
The Fiveways Centre, 215 Childwall Road, Liverpool, L15 6UT
Current time is 01:14 - Sorry, we're closed

Telephone: 0151 295 9330
Fax: 0151 295 9331
Out of Hours: 111
Latest News (click title to open):
Further Information
Summary Care Record
There is a new Central NHS Computer System called the Summary Care Record (SCR). It is an electronic record which contains information about the medicines you take, allergies you suffer from and any bad reactions to medicines you have had.
Why do I need a Summary Care Record?
Storing information in one place makes it easier for healthcare staff to treat you in an emergency, or when your GP practice is closed.
This information could make a difference to how a doctor decides to care for you, for example which medicines they choose to prescribe for you.
Who can see it?
Only healthcare staff involved in your care can see your Summary Care Record.
Do I have to have one?
No, it is not compulsory. If you choose to opt out of the scheme, then you will need to complete a form and bring it along to the surgery. You can use the form below
SCR Consent form with additional information
Patient Access
To register for access please complete the new patient access form below and return it to surgery reception where you will be required to show a proof of photo ID such as Driving Licence or Passport.
Patient Online registration form
Further information: Patient Online Records access-Patient information leaflet
Health information in other languages
https://www.nhs.uk/accessibility/health-information-in-other-languages/
Infection Prevention Control Bulletin
Organ donation opt-out
https://www.organdonation.nhs.uk/opt-out/
Live well Directory