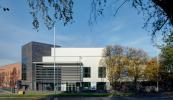 Oak Vale Medical Centre
The Fiveways Centre, 215 Childwall Road, Liverpool, L15 6UT
Current time is 19:06 - Sorry, we're closed

Telephone: 0151 295 9330
Fax: 0151 295 9331
Out of Hours: 111
Latest News (click title to open):
New NHS campaign launches to support survivors of sexual assault and abuse
NHS Sexual Assault Referral Centres are here for you if you have been raped, sexually assaulted or abused.
The NHS has today launched a new campaign to raise awareness of sexual assault referral centres (SARCs) – specialist NHS services that provide a safe space and dedicated care for anyone who has been raped, sexually assaulted or abused.
The campaign aims to highlight these vital NHS support services, with new data of over 4,000 respondents in England finding that over half of respondents (56%) who have been sexually assaulted or abused did not seek help from any organisation or service after the incident, and 46% citing fear of being believed, as the biggest barrier to not accessing services.
Nearly half (44%) of those responding also say they don't know or aren't sure where to get help if they had been sexually assaulted, and 72% are currently unaware of the support available via the NHS.
This highlights the crucial need to raise awareness of Sexual Assault Referral Centres, which are available for everyone 24/7 and regardless of when the incident happened.
If you have been raped, sexually assaulted or abused and don't know where to turn, search 'sexual assault referral centres' to find out more or head to www.nhs.uk/SARCs to find your nearest service.
Content provided by NHS Liverpool Clinical Commissioning Group (CCG). For more information, please visit www.liverpoolccg.nhs.uk.
Published on Thu, 10 Feb 2022 09:41:34 GMT
Modified on Thu, 10 Feb 2022 09:43:12 GMT
Opening Times
Monday
08:00 until 18:30

Tuesday
08:00 until 18:30

Wednesday
08:00 until 12:30
13:30 until 18:30

Thursday
08:00 until 18:30

Friday
08:00 until 18:30

Saturday
CLOSED

Sunday
CLOSED