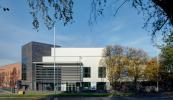 Oak Vale Medical Centre
The Fiveways Centre, 215 Childwall Road, Liverpool, L15 6UT
Current time is 17:51 - We're open

Telephone: 0151 295 9330
Fax: 0151 295 9331
Out of Hours: 111
Latest News (click title to open):
Care at the Chemist
Care at the Chemist
What is Care at the Chemist?
Care at the Chemist is a scheme that allows you to obtain medicines and advice for certain illnesses from your local pharmacy without having to go to your doctors first. If you do not pay for your prescriptions you will not have to pay for any medicines supplied through the scheme.
Care-at-the-Chemist-Formulary-2018
Who can use it?
Patients who are registered with a participating General Practitioner (GP). Ask your pharmacist if you can use the scheme.
What illnesses can be treated?
This service is for the treatment of a new occurrence of one of the ailments listed, if the ailment is ongoing you should speak to your doctor.If you do not pay for your prescriptions all medicines supplied through the scheme will be free of charge. If you usually pay for your prescriptions you will only pay for what the item costs.The pharmacist will ask you some questions and must be satisfied that there is a need for the medication and that it is suitable for you. The pharmacist may decide that you should see your doctor or give other advice without supplying any medicines.Will I be seen straight away?You may also have to wait for your medicines, as the pharmacy staff will dispense items in the order that patients have been seen in.No. Using the scheme does not prevent you from seeing your doctor, but using it for minor ailments can give the doctor more time to deal with patients with more serious illnesses.
You must not register for Care at the Chemist with more than one pharmacy. You should use the same pharmacy each time you need medication, and you must take your registration card with you every time to show that you have registered with the scheme, so that a record of your treatment can be made. If your regular pharmacy is closed you may use another pharmacy but you must inform the pharmacy staff of which pharmacy you usually use.
If I use the scheme does this stop me seeing the doctor?
The pharmacist will see you as soon as possible; you may have to wait if he/she is dealing with another customer, (this may mean that the pharmacist is in the dispensary checking a prescription). If the pharmacy is really busy the pharmacist may ask you to come back. If this happens you can still go and see your doctor if you feel your problem is urgent.
If you have the same problem several times then the pharmacist will refer you back to your doctor.
Will I be able to have the medicines I want?
How much does it cost?
(list of medicines) for the items allowable on the care at the chemist scheme.  However, please bear in mind that this list may be updated so should be considered as a guide rather than a definitive list.
Opening Times
Monday
08:00 until 18:30

Tuesday
08:00 until 18:30

Wednesday
08:00 until 12:30
13:30 until 18:30

Thursday
08:00 until 18:30

Friday
08:00 until 18:30

Saturday
CLOSED

Sunday
CLOSED