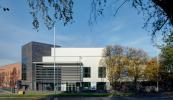 Oak Vale Medical Centre
The Fiveways Centre, 215 Childwall Road, Liverpool, L15 6UT
Current time is 18:02 - We're open

Telephone: 0151 295 9330
Fax: 0151 295 9331
Out of Hours: 111
Latest News (click title to open):
Our Clinics and Services
Practice Nurse
The practice nurses run clinics for long term health conditions including hypertension, heart disease, diabetes, asthma and copd. They also carry out cervical smears, give childhood immunisations and offer travel advice and vaccinations.
Health Care Assistant
The health care assistant runs clinics for blood pressure monitoring, health checks and healthy living advice.
Antenatal Clinic
This clinic is run by the community midwife who monitor progress throughout pregnancy. The clinic is available on Thursday 10:30 – 1:00pm by appointment only.
Well Baby Clinic
Our "Well Baby Clinic" is held on a Tuesday morning between 9:00am – 12:00 for immunisations and you will see one of our practice nurses at the clinic. Please bring your babies Red Book with you.
If your baby is unwell, please don't bring a sick child to the "Well Baby Clinic". Contact the surgery before 11 a.m. if possible so you can speak to a doctor, and if necessary, the doctor will see your child on the same day.
Postnatal and baby's six week check
You be invited to the surgery for a 6 week check for yourself and your babies with one of our doctors. This exam will involve a physical examination, review of development and an opportunity for you to express any concerns you may have. Please bring your babies' Red Book with you.
At your postnatal exam, the doctor will do a lifestyle exam to check you BP and weight and discuss methods of contraception with you. Let the doctor know if you are worried about anything or are feeling low or depressed.
 e-Referral
e-Referral is a service that allows you to choose your hospital or clinic and book an appointment with a specialist. When you and your GP agree that you need to see a specialist you will be able to choose from a list of hospitals or clinics. You will also be able to choose the date and time of your appointment.
Opening Times
Monday
08:00 until 18:30

Tuesday
08:00 until 18:30

Wednesday
08:00 until 12:30
13:30 until 18:30

Thursday
08:00 until 18:30

Friday
08:00 until 18:30

Saturday
CLOSED

Sunday
CLOSED